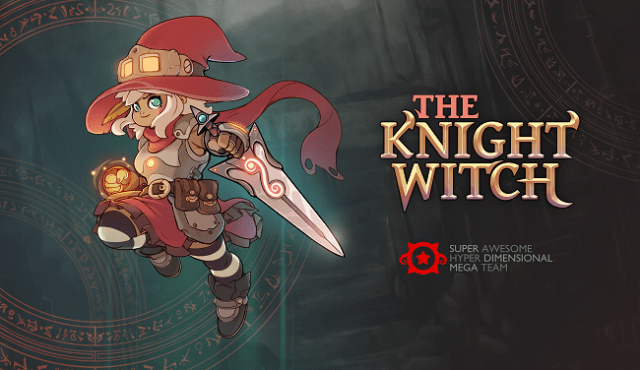 El pasado 28 de abril, Super Awesome Hyper Dimensional Mega Team y Team 17 publicaban un nuevo video de The Knight Witch. Un nuevo metroidvania con mecánicas que combinan shoot'em up, construcción de mazos de cartas (deck-building) y puzles. Su apartado artístico recuerda mucho a su conocido Rise & Shine, un bullet-hell que supo combinar muy bien la acción de las balas con intrincados y originales rompecabezas.
The Knight Witch sitúa la aventura en la ciudad subterránea de Dungeonidas. Una metrópolis que fue terriblemente asediada por una amenaza misteriosa formada por un implacable ejército de golems de guerra. Nos pondremos a los mandos de Rayne, quien por su valía, será consagrada como Caballero Bruja. Un título que la otorgará poderes para hacer frente a la amenaza y salvar a sus seres queridos.
Uno de los éxitos de Rise & Shine fue combinar a la perfección los rompecabezas con la acción frenética de un bullet-hell. Ahora Super Mega Team ha ido un paso más allá con The Knight Witch, añadiendo más de 30 hechizos a través de mecánicas de construcción de mazos. Dependerá de nosotros potenciar las habilidades de acción de nuestro personaje, o coleccionar cuantas cartas podamos. Sin duda una dualidad que suena muy apetecible, ya que dependerá de nuestro estilo de juego la estrategia que pongamos en práctica.
Hay que recordar, que detrás de Super Mega Team, hay artistas y técnicos con mucho recorrido y experiencia. Entre ellos, se pueden contar profesionales que han participado en proyectos tan importantes como RiME , Moonlighter y Plants vs Zombies. Además, por supuesto, de su propia experiencia y recorrido como estudio. Que ya cuenta con varios títulos exitosos para móviles y PC.
En definitiva, una buena idea en muy buenas manos. Tenemos muchas ganas de poder disfrutar de The Knight Witch y de saber más acerca de su fecha definitiva de lanzamiento. Por ahora, gracias a Team 17, sabemos que saldrá a lo largo de 2022 para Nintendo Switch, PlayStation 4, PlayStation 5, Xbox Series, Xbox One y PC.
¡Nos leemos en DeVuego!
Gamer de tercera generación :) Disfruto de casi todo. Me considero un eterno optimista y sorprendido de la vida, de ilusión fácil, me encanta escribir, la tecnología y los videojuegos.