La macabra e incansable mente de Jacob Jazz sigue trabajando en la preparación del lanzamiento de Tamarindos Freaking Dinner y, para ir caldeando el ambiente, ha decidido organizar un pequeño evento llamado THE JACOB JAZZ´S SATANIC CASTLE OF GORE, coincidiendo con el Festival del Miedo de Steam.
¿En qué consiste el evento? Es una combinación de juegos, demos, descuentos y concursos de temática horror para ir preparando la próxima noche de Halloween, todo con el peculiar y carismático estilo que caracteriza a Jacob Jazz.
Desde hoy hasta el próximo 1 de Noviembre tendremos tiempo para disfrutar de:
Demo de Tamarindo's Freaking Dinner, la secuela espiritual del increíble e inigualable Baobabs Mausoleum. Una aventura de horror en primera persona que, según el desarrollador, combina Luigi's Mansion con las sitcom de los 90.
The Bus, juego de terror gratuito que funcionará como epílogo de Tamarindo's Freaking Dinner, una aventura de terror al más puro estilo PSX. Además, podremos diseñar nuestra propia cover del juego. Disponible en itch.io
60 juegos de Celery Emblem para los primeros que compartan en twitter la foto de su cover crafteada de The Bus.
Demo de Zebra-Man, juego invitado al festival, desarrollado por Thunder Zebra. ¿Escapar de un laboratorio con una máscara de cebra y armado con una motosierra? El mejor plan para el fin de semana. Disponible en itchio.
80% de descuento en la trilogía de Baobabs Mausoleum en Nintendo Switch. ¡Corred insensatos!
Concurso Cuadros Mansión Tamarindos Freaking Dinner. Mandando a la cuenta oficial de Jacob Jazz (@Celeryemblem) ilustraciones con la temática escenas horribles de slashers de los 80 podremos optar a que la nuestra aparezca en uno de los cuadros de la mansión de Tamarindo's Freaking Dinner.
Jacob Jazz ha puesto empeño en que no podamos aburrirnos de cara a este Halloween. La locura nos espera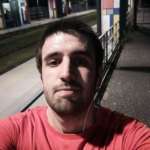 Pese a mi continua obsesión con la literatura, los videojuegos y el deporte, logré acabar mis estudios de filología. Resido en Italia y adoro la pizza.