La décimo segunda edición de los International Mobile Gaming Awards (IMGA), los premios a videojuegos para móvil más veteranos e importantes del mundo, cuenta con tres videojuegos españoles nominados: Afterpulse (Digital Legends), Love You To Bits (Alike Studio / Pati.io) y Cerulean Moon (Nachobeard).
Afterpulse es la apuesta del estudio barcelonés Digital Legends por llevar un shooter free to play en primera persona, con gráficos de alta calidad, a dispositivos móviles iOS. Prueba de su exigencia gráfica es que sólo funciona en dispositivos de 64 bits (chipa A7 o superior). No en vano ha sido nominado en la categoría de Best Techical Achievement (mejor logro técnico) y también como Best Multiplayer Game (mejor juego multijugador).
Por su parte, tanto Love You To Bits como Cerulean Moon han sido nominados en la categoría de Best Upcoming Game (mejor juego por llegar).
Love You To Bits es una aventura gráfica point and click que están desarrollando mano a mano Alike Studio y Pati.io, dos nuevos estudios independientes de Barcelona, y que casualmente hoy mismo tiene lugar su lanzamiento en dispositivos iOS, y próximamente lo hará en Android, Windows y Mac. Un videojuego que destaca sin duda por su adorable y colorista aspecto gráfico.
Cerulean Moon es un plataformas sin salto que está siendo desarrollado por Nachobeard, con una llamativa estética pixel art y un control muy particular, ya que en lugar de mover el personaje, movemos el entorno, desplazando nuestro dedo por la pantalla táctil. El juego tiene prevista su salida a lo largo de este año pero todavía está sin confirmar.
https://www.youtube.com/watch?v=Pxqho7r7HEc
Todavía restan 13 días para que el jurado determine los ganadores, pero mientras tanto, es posible votar para conceder el premio del público en la web de los IMGA, donde sólo es necesario registrarse para dar nuestro voto en cada una de las categorías. Les deseamos toda la suerte a nuestros representantes.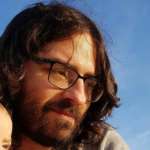 Creador y Director de DeVuego. Padre. Informático. Ex-Vocalista de Death Metal. Pierdo el poco tiempo libre que tengo haciendo webs de videojuegos como esta.